So, my sis-in-law does "friday Letters" every friday.
At first I thought
Wow! I totally wanna steal that idea.
...and then I did. :)
I hope I have some way of posting every friday....fingers crossed, people!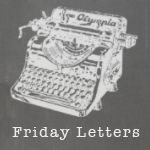 Dear Husband,
THANK YOU for landing a solid job! Don't give up. Never lose faith. :) I love you so so much and living with you is da bomb.com!
Dear Fashion Advisor/Bri,
Thank you for helping me to find cute and useful clothes! Please, let's do it again some time! :)
Dear cowboy boots,
I LOVE YOU! Thank you for existing and being in my possesion!
Dear Work,
I thought I was DONE with 12 1/2 hour shifts, thanks for calling me in...NOT. Poophead.
Dear Oregon,
I'm so excited to come visit you! I need a vacation so so so so bad!
Dear Body,
I'm sorry you're going through garbage. Just be patient. You'll get a break in a lil' tiny bit! I promise...then you can sleep and sleep and sleep and sleep...*yawwwwn*
Dear Weather,
Thank you for staying so nice and beautiful. you have been very accomodating and I just love love love it!
Dear Husband again,
We need to start looking for a tv, cause your baby girl is dying of boredom when she has a morning off! Pleeeeeeaaaaaase!
LOVE,
Kolie :)